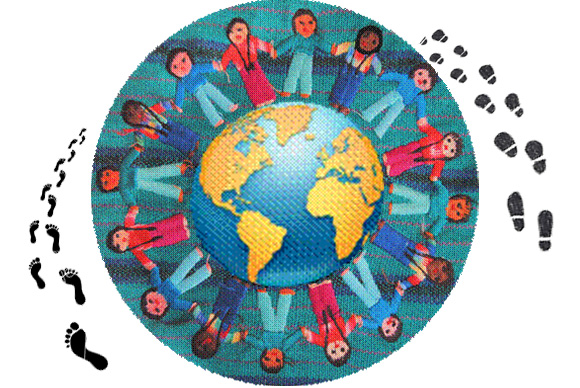 ABRAHAM'S WALK PHOTO ALBUM
See photo album on our Facebook page: Physicians for Social Responsibility - Iowa Chapter
TV COVERAGE CBS 2 / FOX 18
Local TV coverage of Abraham's Walk: "Abraham's Walk Spreads Tolerance in I.C."
TV COVERAGE KCRG TV9
Local TV coverage of Abraham's Walk: "Dozens gather in Iowa City for Abraham's Walk"
PARTICIPANT VIDEO OF WALK KICK-OFF
Dawn Jones' Video: Abraham's Walk kick-off at the Rec Center
CELEBRATING OUR DIVERSE COMMUNITY
When: Sunday, January 22, 2017
Where: Robert A. Lee Recreation Center, Iowa City
Time: 12:00 noon — 5:00 pm
Why Abraham's Walk?
Known as "the Friend," Abraham is still remembered for his legendary welcome and kindness toward strangers, a tradition alive to this day in the Middle East and across the world.
While we're still all aglow in the warmth and messages of peace of the holidays, focused on the work and legacy of MLK, we may fear the recent increase in hate crimes, racial and sexual harassment.
Walking together, we will be taking steps to protect, heal and strengthen the community. We will be moving like a wave from one safe harbor to another in a version of Abraham's walk.
We will talk, walk, and learn. At each stop on the Walk, we will share food, music and stories with members of our colorful and diverse community.
The event will be a manifestation of our equal humanity, of decency, compassion, empathy and willingness to help when any of us face dangers in everyday situations.
The walk will underscore our unified quest for a safe supportive community.
Final Program, Greetings and Hosts:
12 noon — Gather at Robert A Lee Recreation Center 220 S. Gilbert Street in the "Crafts Room."
Host: Maureen McCue, Coordinator Iowa Chapter Physicians for Social Responsibility. Send-off music will be provided by local artists. Sponsoring organizations will have information tables, including PEACE Iowa, Veterans for Peace, Center for Worker Justice, Women's Resource and Action Center (WRAC), and 1st Mennonite Church.
1:00 pm — Hillel House. 122 E. Market St.
Host: David Weltman, Executive Director. UI students and staff will provide comments from the Torah followed by selected chants.
2:00 pm — Iowa Memorial Union, 125 N. Madison St., Black Box Theater Rm 360
Host: Newman Abuissa, Advisory Board UI Center for Human Rights. Welcome by Gada Al Herz of the Arab Students Association and Abdual Ismail, public relations officer of the Muslim Students Association.
3:00 pm — Latino Native American Cultural Center 308 Melrose Ave.
Host: Roy Salcedo, Coordinator Multicultural Programs UI. Meet students and staff representative of the three UI Cultural Centers.
4:15 pm — St. Raphael Orthodox Church, 722 E. College St.
Host: Father Ignatius will make concluding remarks. The St. Raphael Church Choir will perform. Robust refreshments are planned at St. Raphael.
5:00 pm — Return to the Rec Center
Map of the Path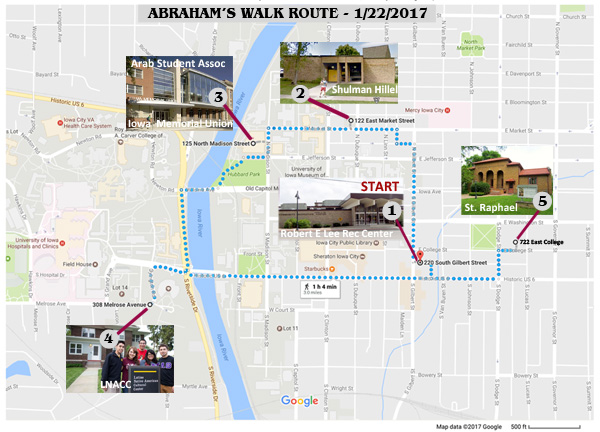 Download low resolution Map of Abraham's Walk Route
Download high resolution Map of Abraham's Walk Route
Our Walking Banner

For More Information
Email contact: info@psriowa.org

Phone: 319-828-4789 & leave message.
Welcome Your Neighbors Yard Sign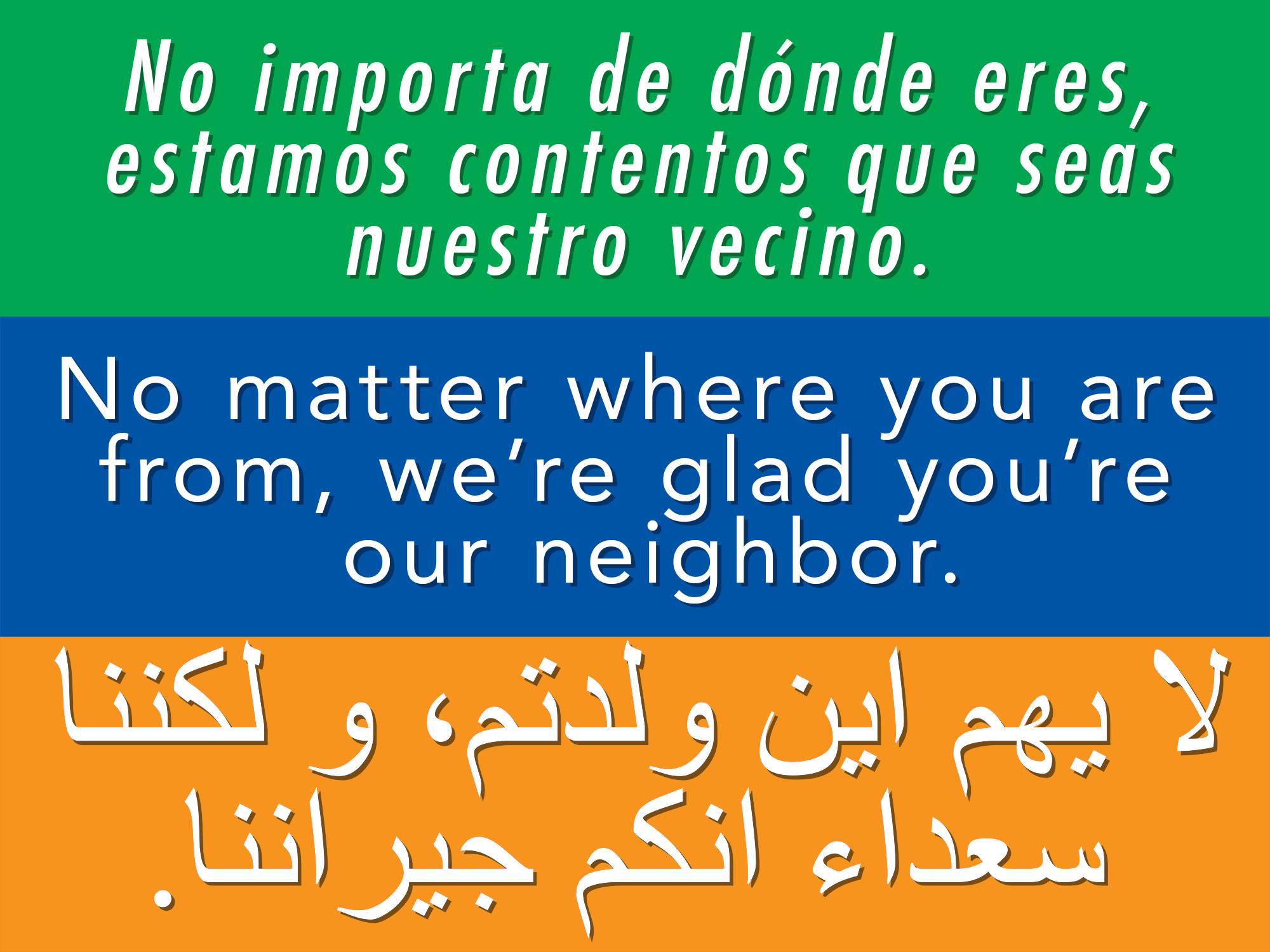 These yard signs will be available at the walk for a $15 donation.
Download the 24" x 18" graphic file and have your own printed here. Choose different language combinations and learn how to get copies printed at your local print shop.
Organized by:
Cosponsored by:
St. Raphael of Booklyn Antiochian Orthodox Christian Church
Iowa Hillel
Latino Native American Cultural Center
University of Iowa Arab Students Association
First Mennonite Church of Iowa City
Pax Christi
University of Iowa Women's Resource Action Center
CIVIC, Council for International Vision, Iowa Cities
University of Iowa Center on Human Rights
University of Iowa Global Health Studies
Iowa UNA
Veterans for Peace Chapter #161
PEACE IOWA
Center for Worker Justice of Eastern Iowa
U of Iowa Muslim StudentsAssociation